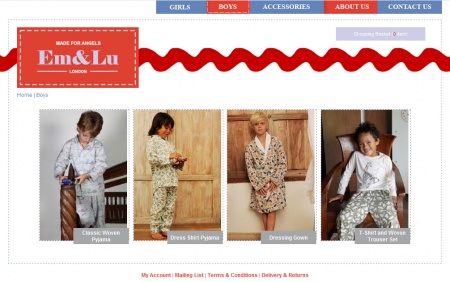 We take care on every details of the web programming, as Em & Lu cares for every detail of their clothes.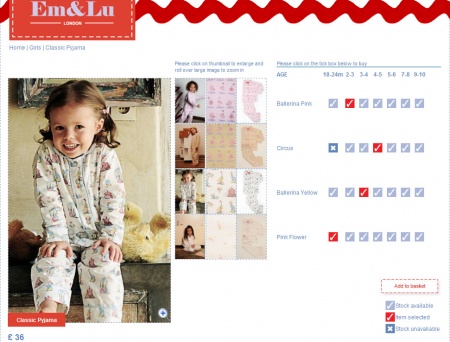 One of Em & Lu product detail.
Em & Lu opens their online store
MyMedia, for Em & Lu (September - 2010)
Em & Lu is an exclusive clothing store established in London. Em&Lu was created so that parents could enjoy dressing their children up in angelic outfits for storytime, lazy weekend mornings or on those late nights when wee ones are allowed to stay up and say hello to dinner guests.
With mymedia, we develop an online ecommerce application for the new online retail store.

Visitors can select the clothes using a friendly interface and choose between different designs and sizes of each unique cloth.

To complete the online sales process we perform an online integration with Secure ePayments, the HSBC payment gateway at UK so users can pay for your purchase via the major credit cards.

From a complete CMS, Em & Lu can manage the whole store information, including products, registered users and purchases.

Children love to wear Em&Lu designs, to revel in their comfort and to enjoy the stories each piece tells. And for godparents and grandparents there will be no end of the pleasure gleaned from seeing these comforting, classic styles with a modern twist.
Visit website
Products and Services involved
Web Applications Development
fullsites e-commerce