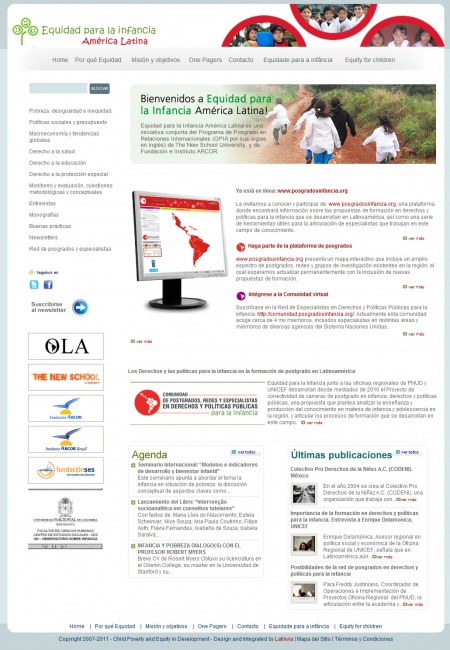 Equity for Children Latin America home page. The versatility of the technology solution implemented allows Equity for Children develop several chapters according to the region and language.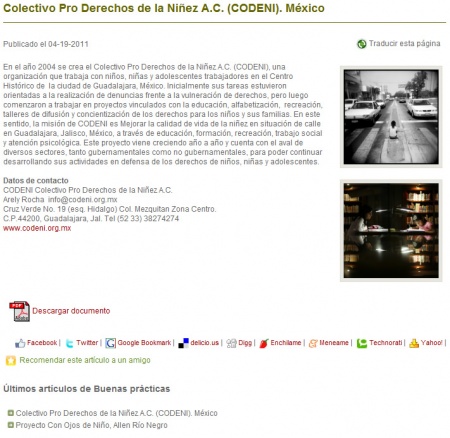 One of Equity for Children web content.
Equity for Children in Latin America
Latinvia, for Equity for Children (May - 2009)
Equity for Children is a joint initiative of the graduate program in international relations (GPIA) from The New School University and Arcor Foundation.

In 2008 we developed the web design and the complete web programming of their website (http://ww.equityforchildren.org), also designing a content management system that allows the administrators to manage all their public information.

After the successful development of the platform for the American NGO, we adapted the same web application for the chapters in Latin America and Brazil.

Through these new developments, Equity for Children added an important tool that helped them in their mission to unite forces and create synergies to ensure the rights of girls and children in a context of changing social and economic development.

Web visitors not only can be informed on all aspects related to this NGO, its work and activities, but also contribute publishing works, studies and other information to help with their mission.
Visit website
Products and Services involved
Web Design & Multimedia
Web Applications Development
IT Consulting